East Coast Services - 24 Hour HVAC Service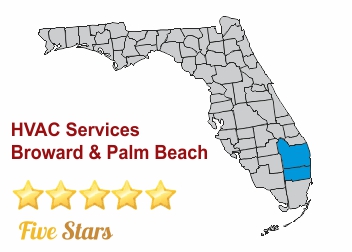 24 Hour Commercial & Residential AC Repairs
Use the 24 Hour Air Conditioning Service in South Florida, offered by us, East Coast Services. You will benefit hugely! Plus, we facilitate our clients in every imaginable way. With us attending to your emergencies, you will have complete peace of mind, knowing that you are receiving timely, first-class air-conditioning services.
Professional Heating & Air Conditioning
Here at East Coast Services, all service requests are processed with a sense of mission. Whether you are a residential client or a commercial client, we treat you with respect. We give our undivided attention, every time. Fortunately for you, comprehensive air-conditioning and heating services are available from us, whenever you need such services. We are the experts who will cost-effectively install, repair and maintain, any type of AC or heating system, in record time and within budget as well. We offer FREE initial consultation. Chose us as your service provider and be fully assured of 24 hour air conditioning service that is cost-effective for you!
There is absolutely no doubt, that we, East Coast Services, in business since 1981, are a reliable AC and heating service provider. Read both positive client reviews and client testimonials, written by clients who rely on the services of our reputable company, East Coast Services. We are well-known and well-respected for our emphasis on 100% client satisfaction. We work exceedingly hard, to ensure the total satisfaction of that each and every one of our clients. We will give you the service you need! Your AC will function at peak performance levels when we complete our tasks. Use our 24 hour air conditioning service line at your convenience!
Services We Offer:
We, here at East Coast Services, provide very comprehensive AC and Heating services, including - AC Repairs and AC Maintenance Agreements, General AC Repairs, Seasonal AC Maintenance, Equipment Replacement Service, Air Quality Assessment, Leak Detection, Leak Service. FREE tips on eco-friendly AC and Heating practices, professional AC and Heating guidance and advice, are always forthcoming from us. Make contact, now!
24 Hour HVAC Services
AC Installations
New Energy Efficient Air Conditioners can help you save up to 40% on your electric bill and eliminate repair costs.
AC Repairs
HVAC repairs for all makes & models. Same day AC services, all work is Guaranteed. Experienced, Certified and friendly technicians.
AC Maintenance
Ask about our yearly maintenance program for your residential or commercial Air Conditioner.